Reconciliation
Cross
---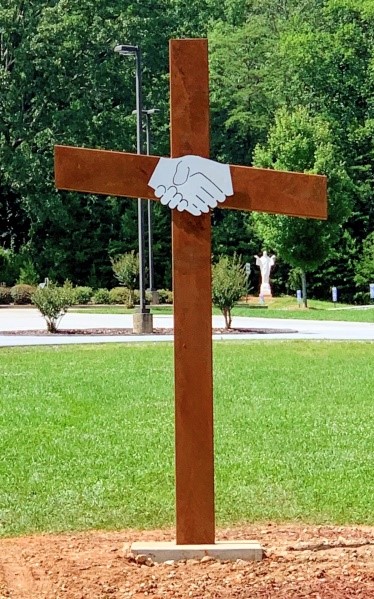 ---
A 12 foot iron cross, whose horizontal arm inclines 7 degrees toward East, welcomes those who visit the campus of St. Helena Catholic Church in Clayton, Georgia.
The seven degree inclination points out to the perfect gift of salvation given to the whole of humanity by the sacrifice of Jesus in the Cross (Ephesians 2: 8). The twelve feet rendered honor to the faith received by the preaching of the twelve apostles chosen by Jesus to carry out his work.
At the intersection of the arms, carved in high relief two stretching hands represent the reconciliation achieved between humankind and God by the mystery of the Cross, "because God wanted all perfection to be found in Him and all things to be reconciled through Him and for
---
---
Him, everything in heaven and everything on earth when He made peace by his death on the cross." (Colossians 1: 19 – 20).
This detail takes its inspiration from Michelangelo 's creation painting, where the extended hand of Adam almost touches God's mighty finger. In this case, in the New Creation born from the sacrifice of Christ, the only begotten Son of God grasps our hand to rescue us from sin and reconcile us with the heavenly Father.
The cross is made of iron, weights 500 pounds, and 3 feet of its height, representing the three days of Jesus in the tomb,
are underground in a concrete base. It was installed on June 23, 2019.